I've been thinking of getting a tattoo for quite some time now. I was supposed to get one for my 21st birthday but wasn't and still not sure what design to get. I have to really be sure about it because I will have to live with whatever design I choose for the rest of my life. Well, not really. Tattoos can now be erased thanks to advancements in technology :) haha
I'm considering getting a tattoo inked in the body parts that you see "encircled" below.
One/some if not in all those places.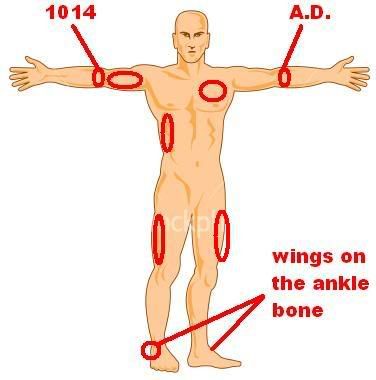 I know that to some, tattoos look cheap and/or dirty. They think it's vandalism on the body. But to some, it's art. Some get inked to express themselves artistically. Some want to be a human canvas. Some get tattoos to serve as reminders of a turning point/milestone in their life. To me, my reasons would be a little bit of everything.
Oh, I forgot to mention, my parents will probably kill me if I got one. So... If ever I do get one, it would have to be one of the hidden parts first. Then I'll get the rest after when I start providing for myself and live under my own roof. Hehe :)