**This is part 3 of 3 entries. I had to divide it because I don't want to have very long posts and it might take awhile to load if I placed it all in one entry because it is photo loaded.



Things we saw along the way (looking for the place that serves Oyster Cake):
1. Ongpin North Bridge
2. A nasty smelling river flowing below it.
3. Fruit Stands
4. Kalesas
Finally found the place after asking a few guards. Turns out we walked right passed it. It's semi-hidden as you can see below. I don't know why my friend suggested we try the oyster cake. It certainly is different and one of a kind and an adventure for the taste buds but.... Damn (pardon my language) Oyster cake = ewwwwgrooossssssyuuuccckkkk!!! Ok, so maybe the taste and look is ok, but it's gummy/chewy. And I hate anything edible that's gummy/chewy except for candy. The texture was just... I couldn't take it. I couldn't even swallow it, I spat it out. Pilar was able to swallow a piece down, she is one brave soul (hehehe). We asked to have it wrapped. Obviously not to take home... but to give to someone on the street. And oh! the place isn't air conditioned! Do not get fooled by their signage! :P
Then we were off to find the place that had sugar cane juice to get rid of the nastiness in our mouth. Pictures below are what you'll normally see in the streets of Binondo.
This one in particular took the longest to find. We asked a lot of people and it turn outs, I think we got the details wrong. hahaha! :)) This was worth the search I guess. It's cheap and yummy and according to the posters, it has health benefits too! The place was playing fun music, we danced a bit and people looked at us like we were crazy. hahaha :)) feeling tourist much.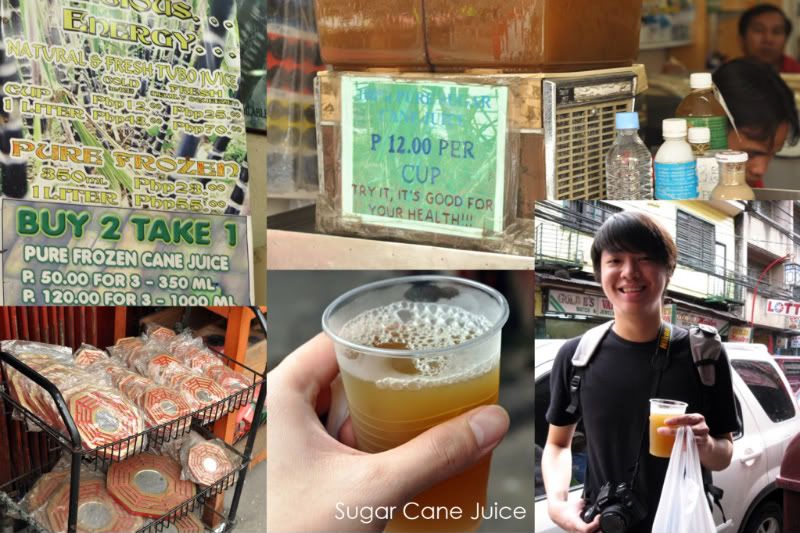 We headed back to where we started.
It was still early and we didn't really want to go yet and my stomach wanted one more thing. So we went to Eng Bee Tin Chinese Deli. I got me self a radish cake and 7up. Not even halfway through and I couldn't down it no more. It was too deep fried, oil, gross, or I think it's just the combination of everything I had that day. Had it wrapped, and gave it to someone on the street.
And that concludes our Chinatown Adventure! :)
More adventure entries to come! :)
<-- back to part 2
<-- back to part 1